More than a quarter of companies in Singapore have experienced fraud over the past two years – and employees are the main culprits.
Findings from the KPMG-SMU Singapore Fraud Survey show a worrying trend of increasing corporate fraudulent activity, with 29% of organisations reporting incidents. This percentage has increased since the 2011 survey, when 22% reported an experience with fraud.
Internal fraud constituted 75% of fraud, up from 64% in 2011 – a massive red flag for companies.
Employees are the greatest perpetrators of fraud, as the survey found 58% of fraudulent activity was committed by staff, up from 47% in the same time frame.
Fraud incidents involving board members and senior management officers remained unchanged from 2011 at 17%.
"With 58 percent of fraud being committed by employees, it is important to address this risk by setting a strong tone from the top – an organisation's board of directors plays a critical role in the oversight of programmes to mitigate the risk of fraud and misconduct," said Bob Yap, head of advisory at KPMG in Singapore.
"The board, together with its management, is responsible for setting a moral tone and ensuring institutional support for ethical and responsible business practices at the highest levels of the organisation."
What does a typical fraudster in Singapore look like?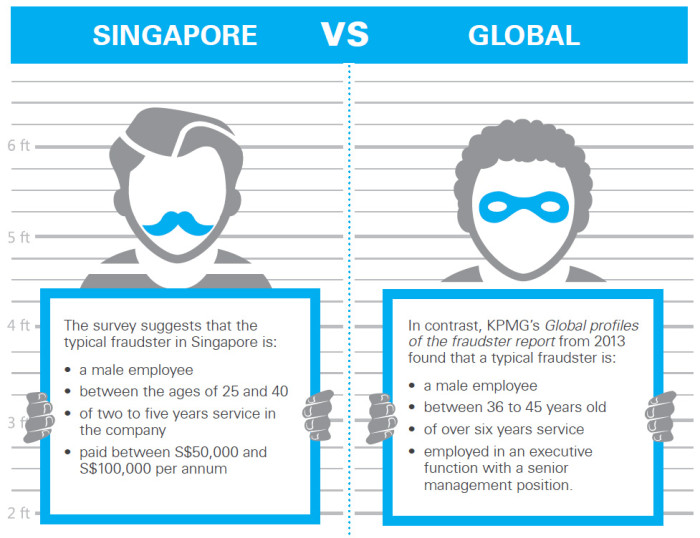 How can you do more to address fraud risk?
The survey found more than half of incidents were first detected by employees or customers, which indicates a very real need to ensure a people-focused approach to fraud risk management.
However, while 85% of respondents to the survey said fraud and ethics policies were communicated to staff, only 59% felt staff were actually well-informed of the risk of fraud. Additionally, while the majority of respondents said control measures were regularly reviewed, only 58% monitor fraud risk indicators to pre-empt such activity.
Also, 17% said the lack of employee or management familiarity with the 'red flags' of fraud allowed it to occur, while 7% attributed it to weakness in management or board oversight. Also alarming is the faact that 13% cited the ethical climate in an affected department or the organisation as a key factor.
READ MORE: Signs of a truly toxic workplace 
Professor Pang Yang Hoong, Dean, School of Accountancy at Singapore Management University, said companies need to promote an anti-fraud culture and communicate the right message that such activities will not be tolerated.
Collusion is another significant concern for employers, as almost half of respondents said collusion between employees and third parties (30%) or collusion among employees (17%) enabled fraud to occur.
Actions taken and lessons learnt
Beyond the immediate response to fraud – including internal investigations, dismissals and terminations and engaging with an external service to investigate – what is just as important are the lessons learnt by company leaders on how to stop another incident from happening again.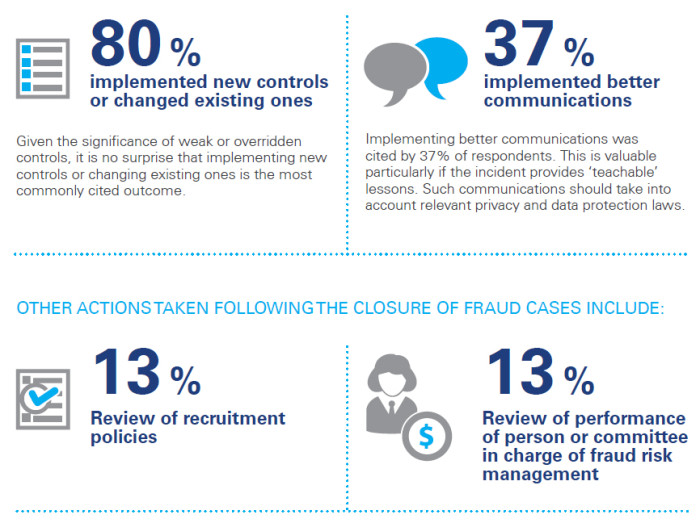 Image: Shutterstock