There are many different ways in which organisations can define engagement while some might define it as having employees perform well, others define it as employees who are always present at work.
With engagement being one high on the list of priorities for HR professionals, a new survey by ORC International highlighted four facts every HR professional needs to know about engagement before crafting an employee engagement policy for your organisation.
Surveying, 8,880 employees across Europe, United States and Asia Pacific, engagement was measured through how likely employees are to say, stay and strive and the following four trends came to light.
Engagement is rising
Contrary to the popular notion that employee engagement is at 'critically low levels', globally, the workforce is becoming more actively engaged with overall engagement levels slowly rising to reach 63% in 2016.
However, the survey noted that there is still work to be done as the shifts in engagement are mostly from fewer people responding neutrally to the questions. This means that the proportion of people who actively disagree (12%) has remained mostly unchanged.
This poses a risk to companies as their negativity may rub off on those around them.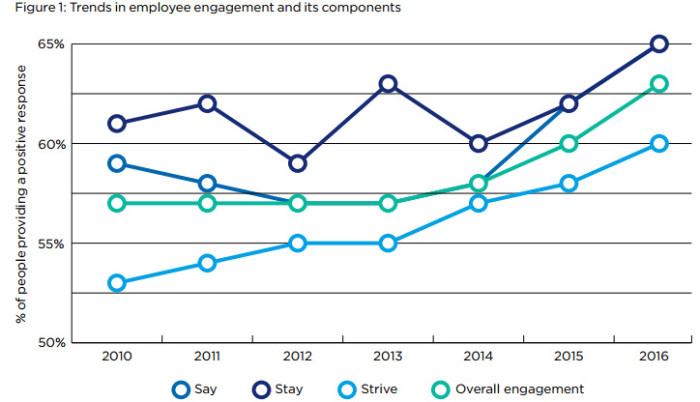 Engagement is different by region
Across the three regions, engagement in the United States was found to be the strongest at 72% – up four points since 2015. This was followed by Asia Pacific with 68%. While Europe came in last at 58% this year.
Despite the relatively high regional engagement levels, engagement levels defer drastically in each country.
Employees in India were found to be very engaged at 81%, followed by South East Asia at 74%. On the other hand, employees in countries such as Hong Kong and Japan weren't as engaged with engagement of 49% and 45% respectively.
Singapore went up by three points from last year to reach 56% in 2016 while Australia remained fairly consistent at 66%.
ALSO READ: Who should be in charge of employee engagement?
Engagement is good for business
While this might be a no-brainer, the survey solidified a link between engagement and performance.
It found that employees working for high performing organisations were five times more engaged than those working for low performing organisations, further pointing out that performance and engagement are connected at an individual level.
It also pointed out that the highest performing employees are three times more engaged than the lowest performing employees and that across sectors, low performers are twice as likely to 'pull sickies' compared to higher performers.
Engagement is greater in some groups than others
The survey pointed out that when creating engagement policies, it is crucial to study the profile of your workforce as different demographics are engaged differently. It highlighted these six trends.
Senior employees with a greater access to information and more control over their work are 20% more engaged
Employees working in a role with direct contact with customers are significantly more satisfied and engaged (68% vs 54%)
Smaller is better. 66% of staff in organisations fewer than 1,000 employees are engaged while only 60% of staff in organisations with over 20,000 employees are engaged.
Millennials (born 1980-1996) are more engaged – 68% – than Baby Boomers (born 1946-1964) – 61%.
Part time employees are slightly less engaged than their full time counterparts in aspects such as communications, innovation, learning and development and health and wellbeing.
Employees are most engaged between three to ten years of service (engagement of 67% compared to 64% for those with under one year of service and 61% for over 20 years of service).
Image: 123RF