天鴿是近年吹襲本港的最強颱風,它不但為港人在星期三工作日帶來十號颶風信號,也導致本港股票市場癱瘓、公司暫停營業和海陸空交通停駛。
天鴿現已遠離香港,本港亦開始清理風災遺留下來的亂象,唯獨萬寧仍在網絡上受到風暴般的強烈抨擊。
星期三下午,香港天文台宣佈將於黃昏由八號烈風信號改為三號強風信號。
隨後,一張印有萬寧標誌的員工通告開始在網上流傳。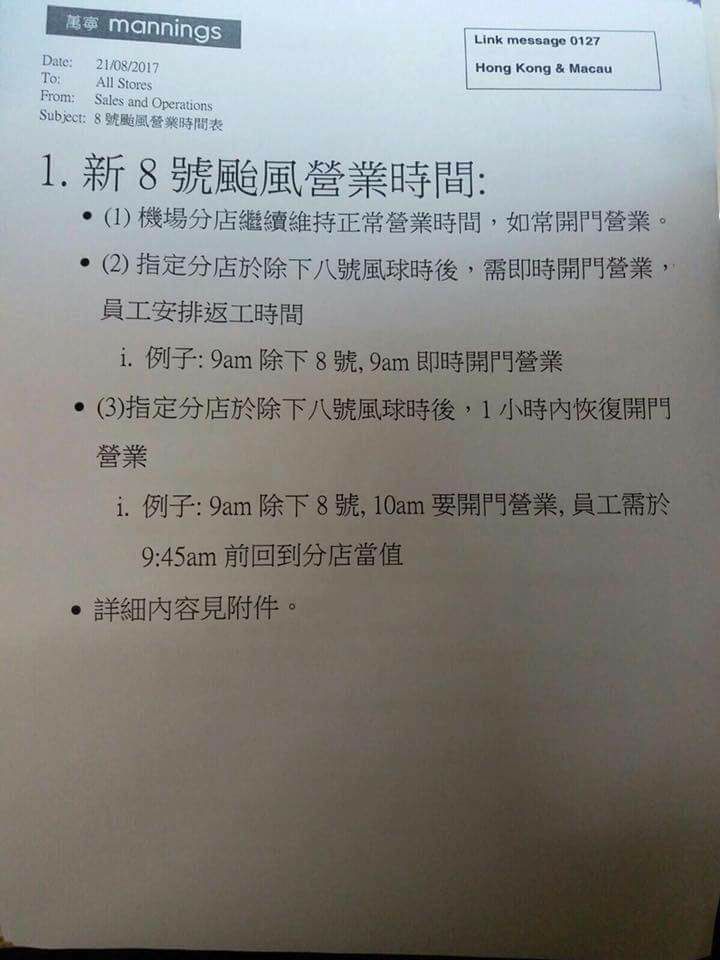 該通告表示,「指定分店於除下八號風球後,需即時開門營業」、「例如:若八號風球於早上九時除下,該分店將於早上九時即時開門營業。其他分店則需在風球除下一小時內恢復營業。」
該通告即時引起無數網民的憤怒,很多人批評萬寧冷血。網民紛紛湧到萬寧的Facebook 專頁留言抨擊,並留下憤怒表情符號。
一名網民在萬寧 Facebook 專頁留言道:「萬寧對其員工完全無情,在如此極端天氣下仍要求員工回公司工作!」
以為此品牌災難就此完結?萬寧於當日黃昏在Facebook上公佈天文台已改掛三號強風信號,並提醒顧客外出時要小心,其「災難」即時升級。網民紛紛指該帖虛偽。
其中一名網民批評:「顧客出外要小心,但員工就不用(小心),還應該立即回去工作,真諷刺啊 !」
直到目前為止,萬寧的Facebook 專頁累積愈來愈多憤怒表情符號及網民的憤怒留言。
報道來源: Marketing-Interactive.com.
HR Vendors of the Year Awards is back again for its 5th year with a fascinating gala night to celebrate the best HR vendors in Hong Kong. Winning is both an affirmation of the exceptional quality of your work in the industry and among peers. Enter Awards now
Contact us now for more details.